Plant Processing of Natural Gas, 2nd Ed.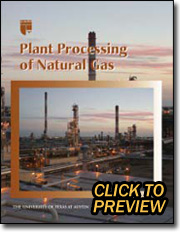 Written by industry experts Dr. Doug Elliot, J.C. Kuo, and Dr. Pervaiz Nasir, this training manual presents the fundamental concepts and working practices in plant processing for employees who deal regularly with the problems of processing and treating gas. Topics include gas fundamentals, absorption, fractionation, dehydration, mercury removal, instrumentation, cryogenic liquefaction, nitrogen recovery, nitrogen rejection, gas and product treating, and sulfur recovery. The book features 120 full-color illustrations, schematics, tables, and photographs to assist the reader. ISBN 978-0-88698-223-2. 2008. 208 pp.
Earn a Certificate! Learn about the materials, practices, procedures, and equipment used to process and treat natural gas and test your knowledge with Plant Processing of Natural Gas Self-Study Program. This includes a copy of the book (in print or e-book) and a 275-question online assessment. Successful completion earns a valuable Completion Certificate from The University of Texas at Austin–PETEX and 3.0 CEUs.
---
Workbook
This companion to Plant Processing of Natural Gas, 2nd Edition is designed to help the learner understand and retain the material covered in the book. Learning objectives are stated and comprehensive self-study question cover the main points in each chapter.
---
Please note: All online material will be delivered during PETEX regular business hours, 8:00am-5:00pm CST(UTC -6).
| Format | Price | Catalog No. |   |
| --- | --- | --- | --- |
| Print | $79.00 | 3.11020 | |
| E-Book | $67.00 | 3.11020E | |
| Printed book & e-Book Bundle | $94.00 | 3.11020B | |